Thursday, September 4th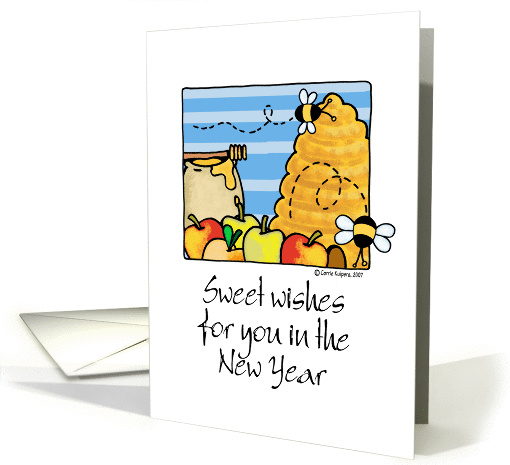 Rosh Hashanah is a very special holiday on the Jewish calendar, literally meaning "Head of the Year." As a celebration of a new year, there are many traditional observances, rituals, and gatherings to mark its significance. That these are often symbolized by food—both that which is eaten together and more indirectly by images of the special foods—is no accident, but a reinforcement of cultural and spiritual practices. When you give a loved one or a friend a card to mark the holiday, you'll often see very specific imagery and messages—both directly in language, and in the associated meaning of those special symbols.
Symbols and Their Traditional Meanings
Many holidays in this cultural tradition are celebrated by gathering together and sharing special foods. Below are listed some of the food items and their meanings, which will also be used in gifts and cards intended to mark the holiday.
Apples and Honey
These two items are often paired together on traditional greeting cards for Rosh Hashanah, but may also appear singly or grouped with other symbolic elements. They bring to mind the wish for sweetness in the upcoming year. Honey, is especially important as it is often consumed during traditional meals with special challah bread. This egg bread is usually eaten with salt, but during the New Year celebration, honey is eaten—again, with a wish for sweetness in our lives.
Traditionally, apples symbolize the roundness of the New Year, as well as the hope that it will be a fruitful time. They may be used as the "new fruit" that has not recently been eaten, since in many European and North American homes, September is also the beginning of apple season.
Pomegranates
These delicious and unusual fruits are commonly eaten during this time because it is said that they contain 613 seeds — the number of mitzvot in the Torah. These are the commandments or good deeds we are exhorted to enact, and thus, pomegranates are a sweet reminder of our traditional duties in the upcoming year.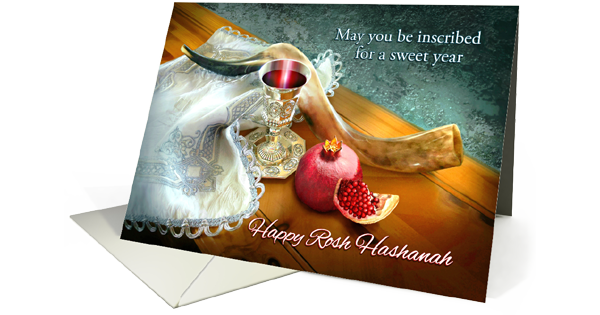 Special Challah
As mentioned above, the traditional bread is often eaten with honey, rather than salt, at the time of Rosh Hashanah as a wish for sweetness in our upcoming year. Challah may be baked with raisins or other sweeteners to reinforce this wish. But another key difference in the bread is its shape. During the holiday, it is baked, not in a braid, but a smooth round or even a ladder shape. This symbolizes the hope for a smooth year, or the journey upwards to commune with god, respectively. When challah appears on greeting cards, it is usually in one of these modified forms, and is often paired with bees or a honey jar.
The Fish Head
Most western individuals not raised in the Jewish tradition might balk at this symbol, but it too is incredibly important in the celebration of the New Year. In many ancient cultures, the fish is a symbol of fertility or fruitfulness—this can also be symbolic of productivity and creativity. The fish head is a symbol of the wish to be a leader, rather than a follower in the upcoming year.
Shofar
This is a non-food element, but one of incredible importance that is often placed with other symbols on Rosh Hashanah cards. In fact, it may be seen as the single most significant element of the Holiday. It is a trumpet or musical horn made from the horn of a kosher animal. That animal cannot be a cow, because that calls to mind the sin of the Golden Calf. This sacred horn is sounded on both days of Rosh Hashanah, unless that falls on the Shabbat.
Other Popular Symbols
Some other popular images that hold significance for individuals celebrating this Holiday are the Walls of Jerusalem or the Western Wall. Both locations hold incredible sacred value within the tradition. The Tree of Life, Peace Dove, and Olive Branch themes are also very popular for New Year cards. You may wish someone a peaceful new year, a time in which to gather their blessings and reflect on the goodness in their lives, or a time in which to heal, love, and cherish those around them.
Special Rosh Hashanah cards are a wonderful way to let someone know how much you value them, both in the holiday time and all throughout the round of seasons. They are a fantastic way to connect or to reconnect with the ones you love during this time when wishes for sweetness, peace, and prosperity in the coming year are foremost in everyone's thoughts. As well, they are wonderful reminders that, even if you are far from your loved ones, they are in your heart and thoughts during Rosh Hashanah, as you look forward into the new year, give thanks for what the old year has given, and take stock of all that is truly valuable in life.