Tuesday, August 12th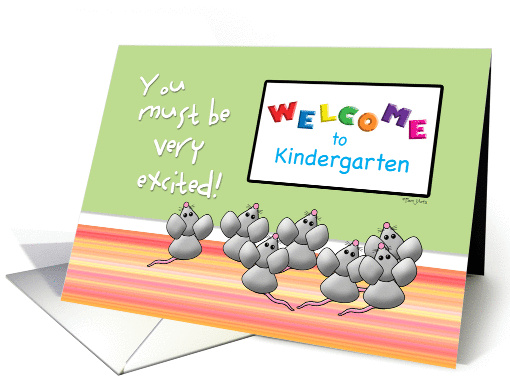 The very first day of kindergarten is busy and stressful for parents and children alike. Students need to learn the rules of the classroom and how to behave with their new classmates.
Preparing children for school keeps parents on their toes with all the little details like remembering to put the child's name inside the lunchbox and making sure they understand how they're getting home from school.
Remember, practice makes perfect. Children who've never been in a structured environment like a school may not even know how to get in line.
If you know a child about to take that first big step into school, encourage them with a First Day of Kindergarten card from Greeting Card Universe's unique collection of kid-friendly designs. Getting mail is always exciting and you can personalize the inside of every card to send your own message of love and support. Teachers can also give out cards to new students to add something special to their first day.
What Are Happy Shoppers Saying About Greeting Card Universe?
"Greeting Card Universe is a top-notch company, bringing high quality, creative cards at reasonable prices — from the comfort of your own home. They give you an opportunity to say exactly what you want to say in a greeting card, which has created favorable responses from my recipients. Try it once and you won't go elsewhere. Prompt delivery and personal mailing service direct to recipient. Who can ask for more!!" – Loretta, Augusst 11, 2014