Tuesday, August 19th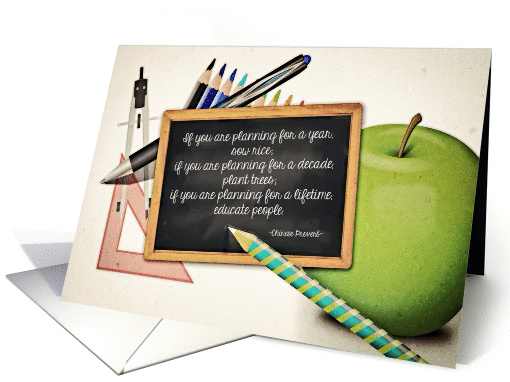 Teachers will also begin a new school year in late August or September and need to make lesson plans and get ther classrooms ready for their students. Teachers also need supplies like chalk, ballpoint pens, rubber bands, paper clips, markers—all the little things necessary to help their classes, their students, and themselves run smoothly and with minimum fuss.
The first day of school is perhaps the most challenging as teachers learn about their new students and their needs. To ease the stress, some teachers print "Welcome" brochures for students, plan a fun scavenger hunt for the class,  help students make name plates, and other activities.
Greeting Card Universe respects those men and women who not only teach our children, but inspire them to reach their full potential. If you know a teacher who is getting ready for a new school year, send him or her encouragement with a unique Back to School For Teacher card created by one of our talented designers. Order on-line and we'll mail your card the next business day OR get FREE in-store pick-up, usually in 1 hour, at many Target or Bartell Drug Stores across America.
What Are Happy Shoppers Saying About Greeting Card Universe?
"I just received my cards today and they are beautiful! When I ordered my cards I forgot to use the promo code and ended up paying full price. I then called the customer service number and spoke with a very nice lady. She said someone would get back to me and sure enough I received a phone call the following day advising me that the discount would be applied to my order. Amazing customer service and great quality cards!" – Susan – August 12, 2014