Thursday, July 17th

It's the height of summer and Christmas is still months away. However, a deployed soldier, sailor, airman or Marine is still in need of home comforts and the small necessities and treats that make life in a war zone a little easier as well as reminding them of their loved ones at home.
Why wait until Christmas when you can send a "Christmas in July" package? Get friends and family involved, too.  Some of the most requested items are:
Powdered energy drink mixes & energy bars

Individual servings of condiments (ketchup, mustard, relish, hot sauce)

Travel size toiletries

Foot care items

Batteries
And here are more suggestions for What to Send to Someone Who Is Deployed as well as important Tips for Sending Care Packages to the Military Overseas.
Include a selection of greeting cards for the serviceman or woman to give to their comrades. Greeting Card Universe makes it easy by offering special discounts on multiple card orders almost every day! Choose from unique designs in our collections such as Christmas – Armed Service/Military Service cards, or Birthday – Armed Services/Military Service cards. And that's just the beginning!
Surprise your loved one overseas with a thoughtful and delightful package of goodies including greeting cards to make it a true Christmas in July.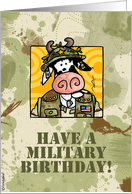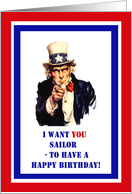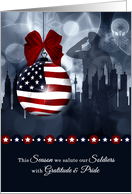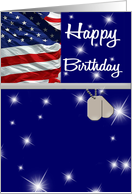 What Are Happy Shoppers Saying About Greeting Card Universe?
"My card was stunning: beautifully printed, nice card stock, quick delivery. While editing the card I typed in the wrong date for the auspicious event on the front of the card (2004 instead of 2014). When I called to explain my error, the woman was generously helpful and took care of all my needs for changing the date and reordering. She was helpful, patient and good humored. (Her name may have been Dorothy?) Now, all I have to do is hope that the reprinted cards get to the East Coast in four days!"- Paulette, July 14, 2014