Tuesday, December 3rd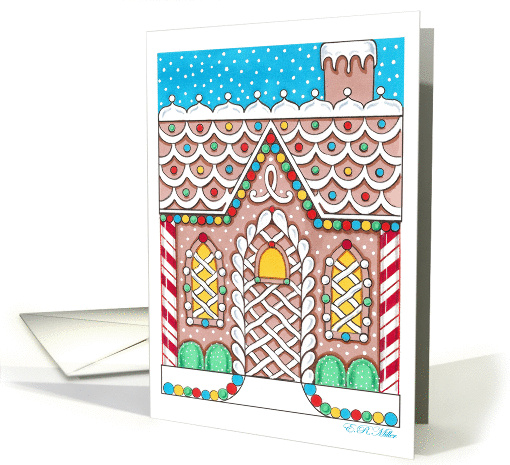 December 12 is Gingerbread House Day, celebrating the creativeness and joy that comes from baking, building, decorating, and finally eating a gingerbread house during the holidays. Gingerbread houses take their inspiration from the fairy tale Hansel and Gretel—see many examples of this delicious and beautiful art on Pinterest. For your delight, here are some interesting little tidbits about this treat.
5 Fanciful Facts About Gingerbread
Gingerbread can be a crisp cookie or a soft cake. Both products are flavored with ginger and other spices like cinnamon and cloves, and both products are sweetened with molasses (treacle).
The original European gingerbread was a paste of bread crumbs, ground almonds, ginger, sugar or honey, and rosewater pressed into an elaborate mold with the details of the finished product picked out in gilt or royal icing. The recipe for these popular presents changed around the 16th century to include eggs and flour, turning it into a baked product more like a modern cookie or cake.
Queen Elizabeth I of England is credited with being the first monarch to present gingerbread man cookies to foreign emissaries to her court as well as her courtiers. The cookies are said to have resembled the nobles themselves.
The idea of the edible gingerbread house — or lebkuchenhaeusle — was carried to America by German immigrants, who had themselves been inspired by the story of Hansel and Gretel in Grimm's Fairy Tales.
One of the largest contests for gingerbread houses is the National Gingerbread House Competition held in Asheville, North Carolina, which has been held more than twenty years.
Keeping with the holiday spirit, Greeting Card Universe offers gingerbread themed Christmas cards in unique, colorful, imaginative designs so you can with a Merry Christmas and send your season's greetings with style.
Need cards in a hurry? Order on-line, get free pick-up – usually in 1 hour – at most local Target and Bartell Drug Stores.
ORDER 5+ CARDS, GET FREE SHIPPING IN THE U.S.!
What Are Happy Shoppers Saying About Greeting Card Universe?
"I was extremely pleased with my cards, the best thing about it, is that your in complete control of what the end product is going to look like, and they give you the opportunity twice to review the end results before you close your order. The quality of the cards are superior." – Jacqueline, December 2, 2013