Monday, November 11th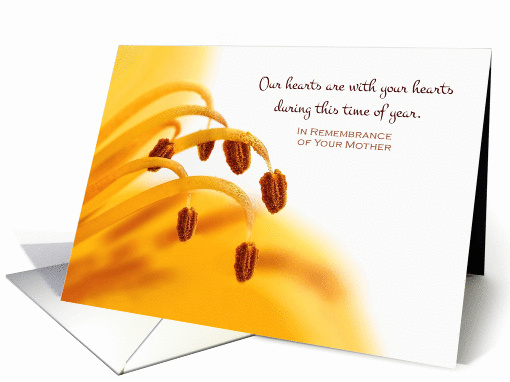 The 3rd Sunday in November is World Day of Remembrance for Road Traffic Victims. This day, created by the UN and observed globally,  is dedicated to all victims of traffic accidents who have been killed or injured.
"Death leaves a heartache no one can heal,
love leaves a memory no one can steal."
—On a headstone in an Irish cemetery
Remembering loved ones who have passed on helps keep their memory alive. These living memories impact and enrich the lives of family members for generations.
Friends, co-workers, mutual members of clubs, organizations and churches, and other acquaintances should take the opportunity to communicate their memories of the deceased. Families and relatives appreciate getting to know their loved one from a different perspective or learn something they might not have otherwise known.
Greeting Card Universe offers unique Anniversary – Death/Remembrance cards as well as Memorial Service Invitations with compassionate messages and designs to help you offer your sympathy to the family of a deceased  friend on the anniversary of their passing or invite guests to attend a memorial service on behalf of a lost loved one.
SPECIAL: Order 5+ cards, get FREE SHIPPING in the U.S.
What Are Happy Shoppers Saying About Greeting Card Universe?
"Truly adore all the cards I get from Greeting Card Universe. Always fast service and ALWAYS get kind remarks from recipients."- Gail, Huntington Station, New York, November 7, 2013