Monday, November 18th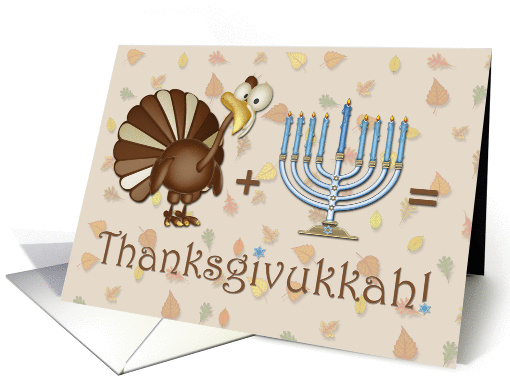 Thanksgivukkah – Thanksgiving + Hanukkah – is an occurrence of the two holidays that won't happen again for more than 70,000 years.
Jewish families who typically celebrate Thanksgiving (the fourth Thursday in November) and Hanukkah will be able to combine the  holidays this year. Since both center around the themes of thankfulness and gratitude, many see no conflict in a twin celebration.
What does that mean? Sufganiyot stuffed with cranberry jelly or pumpkin pie. Sweet potato knish. Latkes stuffed with a challah-based dressing. When two cross-cultural holidays collide at the feast table, imagination comes into play.
Greeting Card Universe offers unique Thanksgivukkah cards for your double holiday needs. For those who prefer to keep their holiday celebrations separate, check out our large collections of Thanksgiving cards and Hanukkah cards for every member of your family, your friends, co-workers, and everyone else on your holiday list.
What Are Happy Shoppers Saying About Greeting Card Universe?
"I am very satisfied and well pleased with the greeting card, particularly the photo which I uploaded into the card. I have received high praise and great responses to previous greeting cards mailed to family members and friends with a photo uploaded into them as well. I have found that a personalized message in addition to a personal photo to family members and loved ones makes a greeting card from Greeting Card Universe truly unique, one of a kind, warmly received and much appreciated." – Diane – November 13, 2013