Saturday, December 1st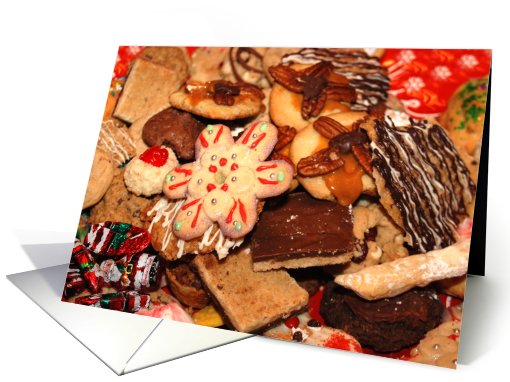 Sift the flour, mix the butter,
Roll the dough for the cookie cutter.
A white sugar star, a red Christmas bell,
A brown teddy bear with a gingery smell.
Christmas cookies taste so sweet –
They're fun to make and good to eat!
—–Anonymous
December 4 marks the observance of National Cookie Day! There's no better month to celebrate these delicious treats that have been making holidays bright for centuries. Baking and exchanging Christmas cookies is as much a tradition in some households as putting up and decorating a tree.
Gingerbread cookies in particular evoke the seasonal spirit. While the earliest forms of gingerbread can be traced to ancient Egypt (this would be more of a cake), Queen Elizabeth I of England is credited with the invention of the gingerbread man when she presented foreign dignitaries with ginger spiced cookies shaped to look like them. Today, gingerbread houses and gingerbread men share the Christmas spotlight with Santa and his reindeer.
Greeting Card Universe offers unique cookie-themed Christmas cards as well as cookie swap party invitations to help you create the holiday spirit when you're baking your favorite cookie recipes, making homemade goodies and spreading the cheer to friends, family, neighbors, and coworkers. And don't forget to leave cookies and milk out for Santa Claus on Christmas Eve!
SPECIAL: Order 5+ cards, pay just $2.79 per card! All orders shipped next business day
What Are People Saying About Greeting Card Universe?
"I was so happy to find a website where I could purchase greeting cards in Japanese. I'm very happy with the Christmas card that I purchased. It's exactly what I wanted. I'll be back for more greeting cards. Thank you for a great selection too." – Dolores, November 30, 2012